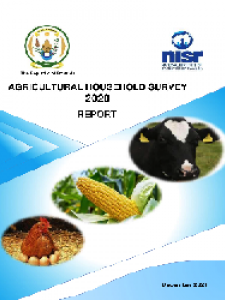 Agricultural Household Survey 2020
This report presents the results of the Agricultural Household Survey carried out from 6th September to 8th October 2020. This survey gathered information at the household level about basic agriculture indicators related to demographic household characteristics, farm characteristics, livelihood activities, crop information, livestock production, level of inputs use, agricultural practices, extension services, level of implementation of agricultural programs, the financial aspect of agricultural households, and other agriculture-related indicators. This report provides results of AHS 2020 discussing different patterns across provinces and districts of Rwanda. Results have been also disaggregated by gender (male and female or male and female-headed households) to explore gender-related aspects in key social and economic characteristics of agricultural households in Rwanda.
According to AHS2020 findings, the estimated number of agricultural households is 2.3 million, equivalent to 80.1 percent of total country households.