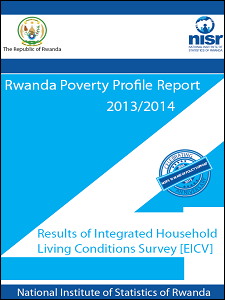 Rwanda Poverty Profile Report - Results of EICV 4
This report provides an update on the level of poverty based on 2013/14 Integrated Household Living Conditions Survey (EICV4) focusing on poverty as measured in consumption terms. The report also highlights other trend dimensions of living conditions captured in other surveys that complement and provide a holistic understanding of poverty and living conditions.
Rwanda's economy has been growing steadily at about 8% since 2001 with GDP per capita more than tripling from US$ 211 in 2001 to US$ 718 in 2014. Food crop production growth was more than twice that of population growth between 2007 and 2014.