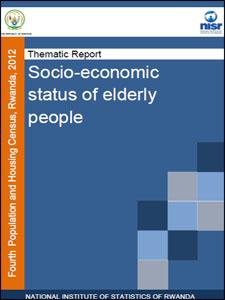 RPHC4 Thematic Report: Socio-Economic Status of Elderly People
As the number of elderly people living in Rwanda increases, so does the need for improved data on and analysis of the characteristics of the elderly population. This thematic report presents findings from the Fourth Rwanda Population and Housing Census (RPHC4)on the characteristics of the population aged 60 and above under three broad headings: (i) the demographic size and demographic characteristics of the elderly population, including its evolution since the first Census in 1978; (ii) socio-cultural characteristics of the elderly in Rwanda; and (iii) socio-economic characteristics of elderly persons and their households.

Data from the fourth Rwandan censuses indicate that the proportion of elderly persons first increased from 4.8% in 1978 to 5% in 1991, dropped again slightly to 4.3% in 2002 and has only minimally increased to 4.9% in 2012. Despite this stagnation in terms of population shares, it is important to note that the number of elderly people in the country has more than doubled since 1978, growing from 231,999 to 511,738.
| File | Download Count |
| --- | --- |
| English (8.18 MB) | 9333 |