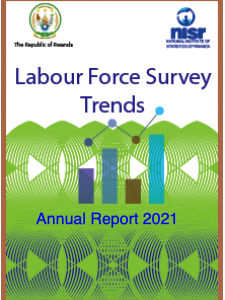 Labour Force Survey Annual Report 2021
The annual Labour force Survey is derived from a consolidated or pooled data from four quarters of year. Rwanda redesigned LFS from bi-annual to quarterly basis since February 2019 to provide estimates of labour market indicators and monitor labour market trends on a quarterly basis.
The data collection on the size and characteristics of the labour force, employment, unemployment and other labour market characteristics of the population was carried out through four quarters of 2021, specifically in February, May, August and November. The survey was also designed to measure different forms of work, in particular, own-use production work and other components of labour underutilization including time-related underemployment and potential labour force in line with the international standards, adopted by the 19th International Conference of Labour Statisticians (ICLS) in 2013.  The current report presents the results of the annual report of 2021 LFS obtained by combining all quarters of LFS in 2021 (February, May, August and November).
The survey covered all persons living in private households, excluding the institutional population permanently residing in places such as hostels, health resorts, correctional establishments etc., as well as persons living at their work-sites and in seasonal dwellings. The resulting estimates of the main labour force indicators at the national level from the combined datasets have standard errors of about 0.5 percent.