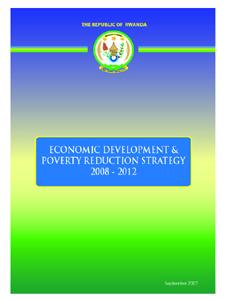 Economic Development & Poverty Reduction Strategy 2008 - 2012
Rwanda's Economic Development and Poverty Reduction Strategy (EDPRS) provides a medium term framework for achieving the country's long term development aspirations as embodied in Rwanda Vision 2020, the seven year Government of Rwanda (GoR) programme, and the Millennium Development Goals. The implementation of the EDPRS will require RWF 5,151 billion over the five years 2008-2012.
This amount includes public recurrent expenditure, public capital expenditure and private investment. The public component amounts to RWF 3,434 billion and represents two-thirds of the total cost of EDPRS. The extra public financing requirement is RWF 352 billion, equivalent to USD 700 million over 2008-2012, or an average of USD 140 million per year. Experience from the first PRSP (2002-2005) showed that progress was achieved in some areas, but implementation problems held back progress in others. Measures are in place to ensure that implementation of the EDPRS proceeds more smoothly and consistently. Greater efficiency can be achieved by improving incentives to execute policy and by relaxing the constraints which prevent policies from being carried out. To this end, a variety of measures are being implemented, including public administration reforms to promote accountability, measures aimed at achieving a closer alignment between donors and EDPRS priorities, a greater role for markets and the Private Sector, and improved monitoring systems at sectoral and district levels.
| File | Download Count |
| --- | --- |
| English (2.79 MB) | 1640 |