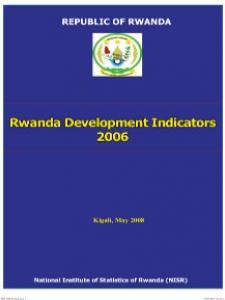 Rwanda Development Indicators 2006
The National Institute of Statistics of Rwanda publishes, for the second consecutive year since its creation, the 9th edition of the « Rwanda Development Indicators ». Like the previous editions, this document provides to users, social and economic indicators to enable policy and decision - makers, to carry out objective judgment on development policies and programs in order to identify weak areas and make necessary adjustments.
The document provides to researchers and academicians, a time series of data covering key social and economic developments of our country.
This document presents key data for monitoring and evaluating national and international policies, such as the EDPRS, the Vision 2020 and the Millennium Development Goals (MDGs).