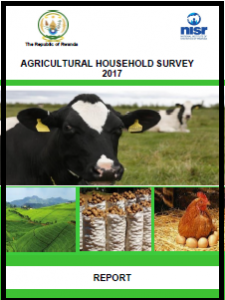 Agricultural Household Survey 2017
This published report of Agricultural Household Survey (AHS) conducted from July to September 2017, has been done to provide current data showing the situation of agriculture in households and it is a tool to be used in planning and monitoring of agriculture policies and programs.
This report presents findings from AHS 2017 in areas of various aspects related to demographic and socio-economic characteristics of agricultural households, crop production, use of agricultural production, awareness of agriculture technology, government policies and programs, access to inputs, access to finance, agricultural assets, livestock numbers and other related agricultural items.
In this report, majority of tables provide results of AHS 2017 discussing different patterns across provinces and districts of Rwanda. Also, some tables results have been disaggregated for male and female-headed households to explore gender related aspects in key social and economic characteristics of agricultural households in Rwanda.